Easter is Around The Corner! - Easter Flowers - The Sevenoaks Florist
Easter Flower Symbolism
Traditionally, the colours associated with Easter flowers include bright, fresh yellow and white, together with the vivid tones of spring flowers, which come in blues, reds, oranges, cerise and purples. However, there are some flowers and particular colours that have special meanings associated with Easter.
White longiform (or Easter) lilies are often put in churches for Easter and are thought to have grown in the Garden of Gethsemane, where Jesus prayed before his crucifixion. The colour white represents purity.

Tulips symbolise passion, belief, and love and white tulips are associated with forgiveness.

Yellow daffodils are a popular Spring and Easter flowers. Yellow comes to mind as the Easter colour from chicks, colourful eggs and of course daffodils, one of the earliest bulbs to bloom and welcome Spring to the garden. It is the colour that symbolises friendship and in religious terms represents triumph (of the resurrection).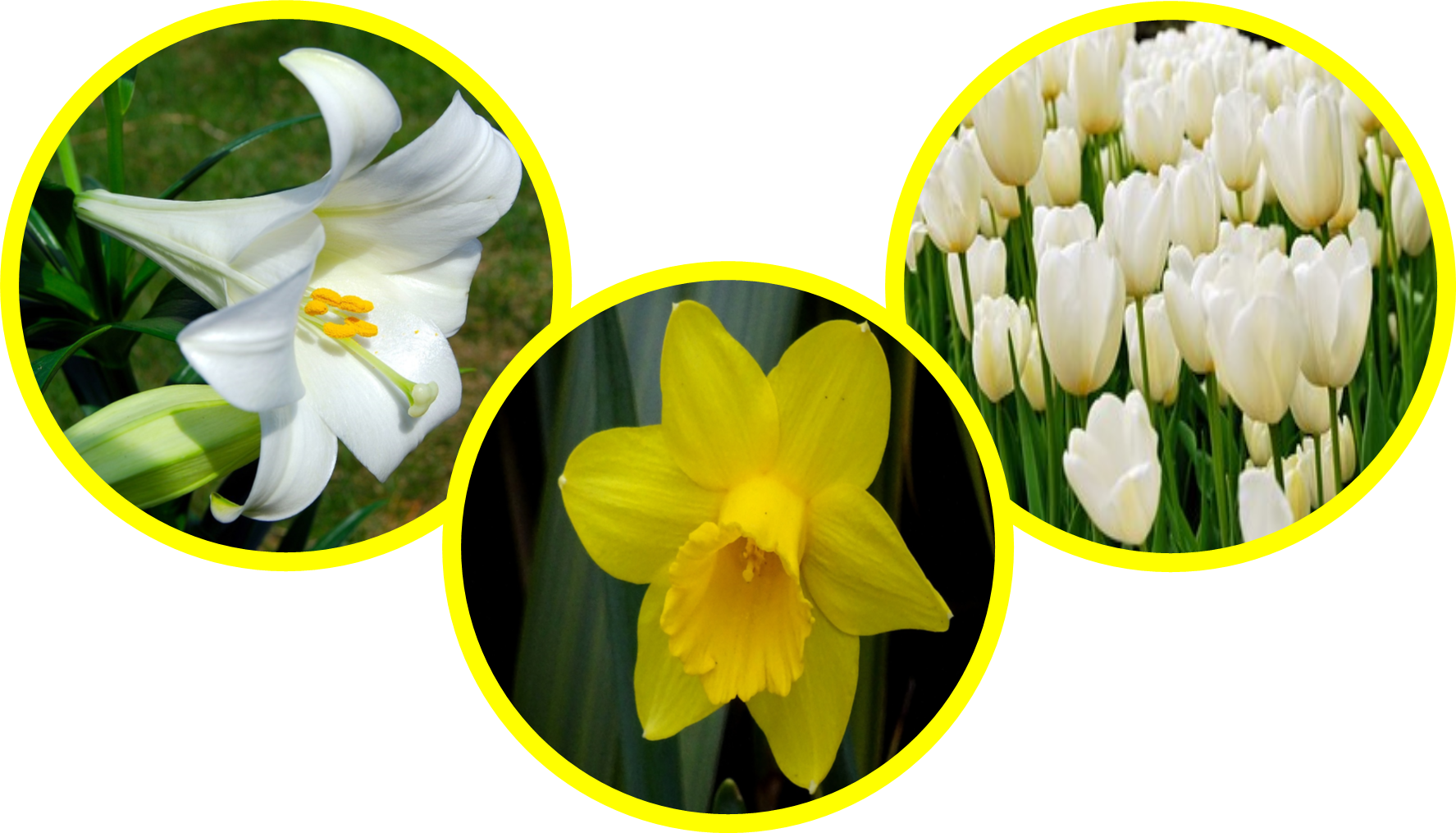 Buying Easter Flowers
If you need to buy flowers for your church, if we don't have the flowers that you require in stock, we are generally able to get flowers in for the following morning. If you need longiform lilies, do bear in mind that they can take up to a week to open.
As usual, we are closed on Sundays together with Good Friday and Easter Monday. We will be able to provide flowers before the Easter holiday and on the Saturday. We will have our usual selection of Spring flowers available to bring some colour into your, or somebody else's home. Click on their names to order Hattie, a vase of Spring flowers or Abella, which is a hand-tied bouquet.
We will, as always, have a large selection of flowers in the shop, so feel free to pop in if you would like to select your own stems or you would like us to make up a bouquet while you wait. A typical selection in the shop is shown in the photo below.
(We close at 5:30PM on weekdays and 4:00PM on Saturdays.) Alternatively, you can see our website here or call us on 01732 450145.
Deliveries
Should you want a delivery of fresh flowers, we deliver all around Sevenoaks but also go as far as Eynsford to Tunbridge Wells, Westerham and Edenbridge to Wrotham. If you need a delivery of flowers further afield, we can either make up a hand-tied bouquet in the shop and use packaging designed to keep the flowers fresh while they are delivered by a specialist overnight courier. We can also send orders through a variety of relay companies for delivery by a florist local to the recipient, should you prefer this option.
…. And Finally
All of us at The Sevenoaks Florist would like to wish all of you a happy Easter holiday. I hope that you get to spend time with friends and family and enjoy a few Easter eggs in the process.
Joanna